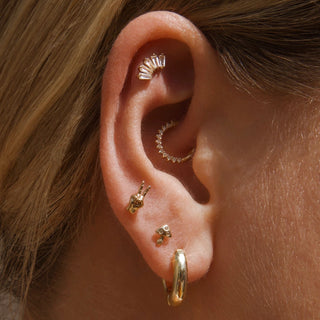 hey you -
let's get pierced.
At Mod + Jo, you can always expect a welcoming, safe, and personalized piercing experience. We strive to make everyone feel catered to whether it's your first piercing or your tenth. Our curated selection of 14k gold earrings offers something for everyone and for every offered piercing placement. Our friendly staff is there to assist you along the way from styling to aftercare questions. Our experienced piercing artist, Lucy Machel of Lady Magnolia Tattoo always provides a clean and individualized environment for each client. You're guaranteed to walk away obsessed with your new piercings and ready to come back for more!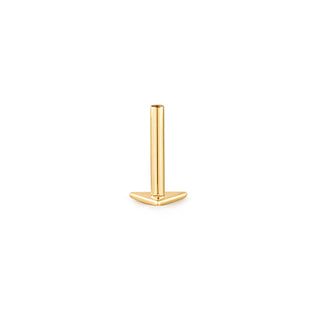 The Threaded Flat-Back
difference
Threaded flat-back studs are a poke-free, safe, and secure option when it comes to piercing jewelry. Since they are a low-profile backing, there is less risk of getting caught on hair and clothing, therefore promoting a better healing process. Our backs are solid 14k gold and are meant to be worn comfortably 24/7. 
Get inspired -
Just a few of our favorite pairing to plan your next piercing.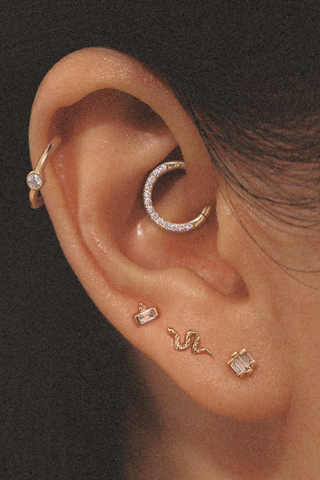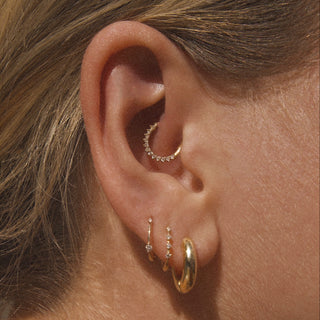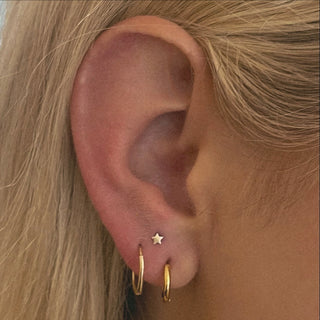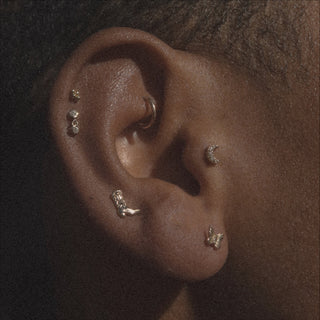 Get excited, it's time -
book your piercing appointment
$40 per piercing
+ the price of piercing jewelry
- Receive personalized piercing placement recommendations during your jewelry selection process.
- Expert ear piercings by our addored professional and liscenced piercer, Lucy.
- Aftercare recommendations provided after your service
- Aftercare solution available for purchase during your experience